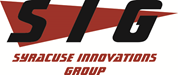 Syracuse Innovations Group is a Managed Services Provider. We provide IT services on an as-needed basis. What distinguishes us from a number of other providers is that instead of waiting for you to call us saying something's broken, we proactively monitor your systems 24/7. By doing this, we can catch problems early, before they become major issues. This helps to keep your business running more smoothly and efficiently.
We do charge a fee for this service. The reasoning behind the charge is that not only do we have to pay licensing fees for the software we use on a per-device basis, but we also spend time every morning checking the reports and monitoring the status of the systems looking for any signs of trouble.
The software we use runs about 75 separate checks. Some of these are run once daily early in the morning, others are run continuously throughout the day. These checks cover everything from hard drive space and resource usage, to that status of your anti-virus and Windows Updates, and even whether your backups are running correctly. The checks can be fine-tuned to each machine's specific usage, and we can create new checks to monitor custom needs.

Let's look at a couple of quick examples of how doing all of this helps us help you. By monitoring resource usage (things like CPU/Processor and RAM/Memory), we can notice that your server may be using an above-average amount of resources over the past day, and fix the problem before it uses everything it has and locks up. Once it's locked, you lose access to your email, files, and anything else it is hosting until we have a chance to get it rebooted and back up and running again.
Another example that is of high importance is backups. Our software can tell us if your backup didn't run correctly the previous night. This can be crucial to not losing information. Without active monitoring, you may not know your backups have failed for the past two months until you need to restore something. But by actively monitoring it, we know the very next day. This allows us to get in there and fix the problem and keep your backups running properly.

The software we use is also tied in with our other product offerings, for easy management and lower resource usage on your systems. The software is necessary to run our remote assistance application, giving us the ability to work on your system from anywhere, right away! By not having to wait for someone to arrive on site, you can be back up and running again in less time.
Some of the other products we offer include managed anti-virus (so we see if a particular machine is getting viruses, and can clean it further as needed), online backup, and patch management (we can push out updates for Windows and your applications company-wide, to keep everyone properly updated). We also offer web site filtering (can help reduce viruses by blocking pages that load in the background that you may not even know were loaded), and it can be customized as needed. We can set it to only allow social networking or news sites during the lunch hour, as an example.
And in addition to all of our managed services listed above, we do sell, design & build, as well as do regular maintenance on servers, networking, and desktop/laptop computers. Hopefully this has given you a better insight on how we here at Syracuse Innovations group can help keep your business running smoothly with our proactive management approach. If you have any questions, or would like to know more about any of our services, please let us know!