Almost all commercial IT companies don't like to get the calls from home customers and their computer problems.  When your brother calls at 10pm about problems you wish you had never answered the phone.  Recently, we have been dealing with this problem by installing our Managed Services Client on home users computers.
Below is a screen shot of our management interface. The agent, when installed, monitors critical resources, installs our managed antivirus and allows us to have direct remote access to the machine so when you do call we are able to help you quickly and efficiently. All of this for a whopping $9 bucks a month.
Please click on the picture below to get a clear view of the interface.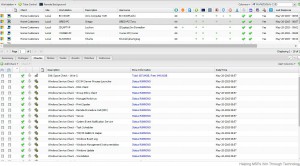 We are also capable of providing Cloud Backups and Internet Filtering to protect you and your children.
Out of the 18 or so home customers we have installed this service they have found that their computers are running 100% better. Limiting both of our frustrations.
Drop us a line today for a 30 day free trial.
Bob